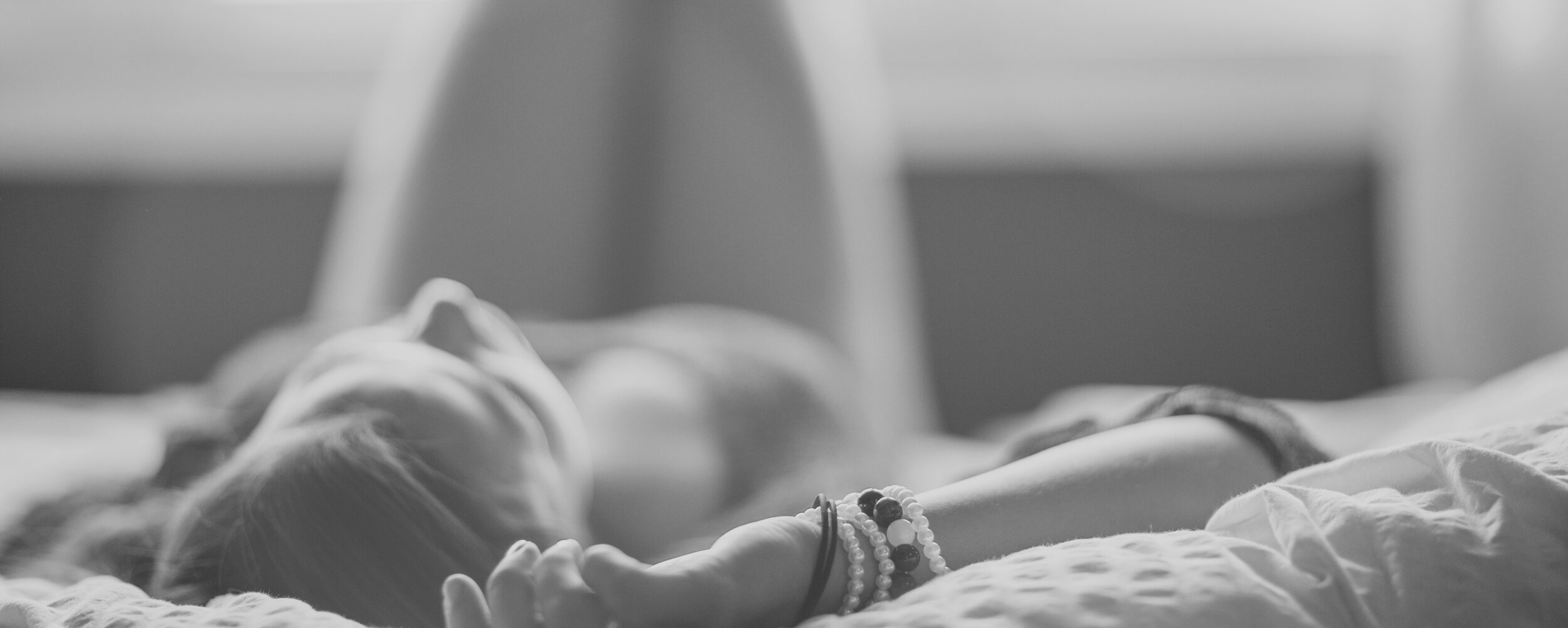 Pleasure-based Sex for Women
Life-changing 6-week online course for women
Are you craving to feel more pleasure and passion in sex?
Do you seek more connection with yourself and your sexuality?
Do you wish you knew how to ask for exactly what you want in sex?
(I mean 100% of what you really really really want)
If you've ever felt that sex is like a chore, something to get yourself ready for and do, there is a different way.
It's time for a new kind of sex.
Sex that's not about performance and appearance
— but about how you feel.
Sex that renews, energizes and fulfills you.
Sex that's fun and pleasurable.
Sex that engages all of YOU.
Sex that fills you up.
And here is the secret: when sex is done with deep regard for the way your body works and what your soul craves, sex never feels tiring or like a chore. Instead, it nourishes and satisfies — and it makes you want more of it.
If this is the sex that you've been craving for,
you're in the right place, woman!
I've distilled the teachings from my private 1:1 practice to offer 6 weeks of juicy content over video + live support in a small and safe community of women. Limited to 20 women.
Next program starts November 10, 2019
Get notified when enrollment opens.
Pleasure-based sex means …
Get more pleasure out of sex on your terms, the way your body enjoys it

Cultivate sexual desire, so sex never feels like work

Know your needs, wants and desires and never worry about not knowing what you want in bed

Access deeper pleasure of your body and feel free and confident — whatever shape, age or size you are

Open up with your partner and share the pleasure and closeness of sex

Ask for what you want easily — and in a way that has your partner want to give it to you
WEEK 1: Overcome Worry and Love Your Sexuality
If you've ever questioned if you're "normal" or sexual enough, you're not alone. For far too long, we've used male sexuality as a proxy for "sexuality" as a whole, leaving women feeling "less than sexual" than men. Women's sexuality is different and to understand — and enjoy it — we have to look at it holistically through our bodies, minds, emotions, hearts, and souls. We start with taking an in-depth look at women's sexual desire and libido and how it hinges on … pleasure.
LIVE Q&A CALL: date TBD
WEEK 2: Understand Your Body, Engage Your Pleasure
Did you know the clitoris has 8,000 nerve endings — almost three times as much as the penis? Did you know it also expands far along the vaginal walls and encompasses the g-spot and other sensitive spots? Did you know that with arousal, the muscles around our mouth also relax to make oral sex more pleasurable? The truth is that we're wired for mega pleasure! This anatomy lesson will prep you for accessing deeper pleasure and engaging in sex in a way that feels right for your body.
LIVE Q&A CALL: date TBD
WEEK 3: Get Clarity on What You Need, Want and Desire
Do you dread the question "what do you want"? Do you censor yourself? Try figure out what you should want? When we're used to beating ourselves up, the gentle, whispering voice of desire (usually calling for more pleasure) doesn't have a chance. When we follow what we "should" be doing, desire gets lost in the background. This week, we take a deeper look at our relationship to desire and break through barriers to knowing and asking for what we want so you feel your desires & trust their power and "rightness."
LIVE Q&A CALL: date TBD
WEEK 4: The Secret to Yummy, Never-ending Sexual Fulfillment
This week, you will discover the best way to ensure that you experience yummy sex, never-ending sexual fulfillment, and a sense of inner nourishment that will leave you wanting more. The best part is that none of this requires requires that you to do a single thing. You don't want to miss this!
LIVE Q&A CALL: date TBD
WEEK 5: Supercharge Your Communication for Pleasure
(and this time, he'll listen!)
The bedrock of intimacy is honesty. Yet we all feel less-than-courageous to speak our truth in our relationships — but at what cost? Cultivate the confidence and the skills to effectively communicate your needs, feelings, desires, and boundaries to build intimacy and connection — in a way that your partner will listen and want to share it with you.
LIVE Q&A CALL: date TBD
WEEK 6: Having Confident Sex for Your Pleasure
This week we bring it all together. What is to have sex for your pleasure? What is sex that is nourishing and touches your heart and soul? And how do you sustain sex for your pleasure? As we wrap up the program, we also celebrate each other's journeys and successes.
LIVE Q&A CALL: date TBD
BONUS: Fire Up Sexual Passion with Your Feminine Super Powers
If you feel that you're not as connected to your body and pleasure as you'd like and/or you feel that you're generally lacking energy and drive in sex, this will be a life-changing module for you. In this bonus session, we're going to explore the super power of feminine energies within you and learn how honoring the feminine increases your ability to receive and experience pleasure and be a more confident lover.
From the moment I signed up for Irene's Pleasure-Based Sex course, my body shook with fear. I knew I needed to address this area of my life, for myself and for my partnership, but as soon as I said yes I panicked. Before most weeks of the course, I felt resistance to showing up. Yet, time and time again, once in Irene's presence and with each week of material, I inevitably left each session feeling empowered, hopeful, and informed. Irene is passionate, devoted, skillful, and knowledgable in this vast topic of sex-education ... and is a grounded, organized instructor who is also constantly attuning to her students. I consistently felt attended to, especially when the topics triggered a fear response in the moment.
I noticed changes in my pleasure within days ... I am now acknowledging my desires within myself ... and making enacting them more of a priority, speaking up more during sex to direct touch towards my pleasure or to stop things when they hurt, having more frequent conversations about sex with friends and partner. I do feel more confident both during lovemaking and around trusting that I know what I need, learning to work with our sex life and trusting that my partner and I can evolve together and not be stuck.
I highly recommend this course and working with Irene!
Miriam, 38 • Dance Instructor • Colorado
From Irene's course, [I learned] to shift my view of what sex is into the reality that sex is a beautiful expansive spacious free flowing experience, one that holds a lot of freedom and pleasure ... [which] opened me up to what's possible — and what's possible is both enlivening and healing. This course has taught me to better understand my body, my sexual interests and needs ... in a deep fulfilling way. Everything before has been about the surface of sex ... not what truly nourishes us. This course has firmly planted the seeds for my sexual transformation to unfold. I wish I had this class 15 years ago! I found Irene to be warm, inviting, very knowledgable — and honestly I just love her views and understanding of sex and sexual relational patterns. Without a doubt, this class has changed what sex is for me and my husband for the rest of our lives!
Kristyn, 33 • Married, Stay-at-home Mom • Colorado
WHAT'S INCLUDED
20+ hours of recorded transformational content
with exercises and worksheets
1 year access to live Q&A calls
(to be recorded and provided to all participants)
Secret Facebook "Community" group to connect with other women
going through the journey + Q&A and support from me
OPTIONAL: Private 1:1 coaching sessions for personalized support
20 hours of recorded content & exercises
Weekly live Q&A calls for 12 weeks
Private Facebook community group

$697
LIMITED AVAILABILITY
Online Course + VIP Individual Support
20 hours of recorded content & exercises
Weekly live Q&A calls for 12 weeks
Private Facebook community group

+ 3 private 40-min coaching sessions
+ email support
$1,447
* Payment plan available
Program Opens November 10, 2019
Get notified when enrollment opens.
How It Works
Once enrollment opens, you will be able to purchase the program and get access to videos for week 1 and private Facebook group. Every subsequent week, you will get access to additional videos for that week.
Once you're in, I'll send you an agreement asking you to confidentiality. To ensure everyone's safety as well as growth in this program, your agreement to total confidentiality is crucial. If you cannot agree to confidentiality or know you cannot maintain it, please let me know upfront. Unfortunately, this is non-negotiable, and failure to agree to confidentiality means you will not be able to participate in the program.
Each week, we will have 1-hour live Q&A call held over the Zoom video platform. You'll be able to submit questions ahead of time, and I will answer all questions either on the calls or in the Facebook group. You're encouraged to share and participate according to your comfort level. All sessions will be recorded and made available to you shortly after the calls.
Should you want additional individualized support, you will be able to purchase additional coaching hours once the program starts, on an as-needed basis, in 2-hour segments.
Questions? Contact me at irene@irenefehr.com
+ What if I have to miss a couple of sessions? How do I catch up?
You have access to all recordings so you can listen to each week's session on your own time. All group Q&A calls will be recorded and available shortly after each call. You will also have access to worksheets for follow-up work. The Facebook group is a wonderful way to stay connected to the group and further the learnings, even if you cannot attend some sessions.
+ Q: Is this a good program for someone recovering from sexual trauma or abuse?
This program is NOT appropriate for healing sexual trauma or sexual abuse, and you will be better served by a specialized program targeted towards this sensitive topic. However, if you have done extensive therapy and healing work around sexual, emotional and/or psychological trauma, PTSD, and/or sexual abuse, please talk to me before enrolling into the program, and we can determine if this is a good fit.
+ Q: I want to keep my anomity in this program. Can I do that and still get access to calls and the Facebook group?
Yes. Privacy is important and if you want to stay completely anonymous, you will be able to do that. You will not have to disclose your name on Q&A calls. And you can use a pseudonim account on Facebook to be able to take advantage of the group. However, your real name is required for purchase and for signing the confidentiality agreement, and my staff and I will have access to such information that will be kept completely confidential from other participants.
+ Q: What kind of access do will I have to you for individual coaching during the program?
You will get me live during the 1-hour weekly Q&A calls. You will also be able to submit questions ahead of time, and I will answer all questions either on the calls or in the Facebook group. You're encouraged to share and participate according to your comfort level.
I will not be coaching on the group calls. The combined package of recordings + 1:1 coaching is the best way to get VIP individual coaching support with me.
+ Q: I am single. How will this program help me?
This course focuses on sex with a partner and the principles that I teach will help you when you ARE in a relationship. However, and ultimately, this program is about YOU and your relationship with sex and pleasure. When I talk about relationships, both single and coupled women will benefit from these teachings. They will prepare you for your next relationship, and also give you a way of knowing if someone you meet or are dating is ready and able to have the kind of sexual relationship that you desire.
+ Q: What's your cancellation policy and can I get a refund?
A: I am confident that by the end of the Pleasure-Based Sex program, you will transform how you think about sex and pleasure, how you interact around it, and how to experience sex for yourself and your partner.
However, you might decide that this approach is not for you. By the end of 14 days into the course, you'll have access to the first two modules – which will give you a full understanding of exactly why sex might not have been particularly easy, pleasurable or fun for you — and you'll also go through the mindset shifts to set you up for success.
If at the end of 14 days, you don't feel confident that this approach can work to improve your sex life, simply reach out to me, show that you've done the work, and I'll refund your investment minus the $150 processing fee.
If you have chosen the VIP package that includes 1:1 coaching, used coaching hours are not refundable. You will receive a refund of program investment and the remaining coaching hours (billed at $250/hour) minus $150 processing fee.
There are no refunds of any kind after the first 14 days of the program.
+ Q: How is sex coaching different from sex therapy or psychotherapy?
More Client Feedback
Before coaching with Irene, I had been with my now husband, whom I love very much, for over 10 years, but I was frustrated that I didn't want sex. I felt abnormal, self conscious, and I felt bad that I was neglecting this area for him. After a few sessions with Irene, I understand much more about myself as a whole (not just in regards to sex). As a result, I feel like I am becoming a better version of myself in all areas of life — it has been awakening in many ways.
Jennifer, Nurse Practitioner, married & mother of 2
• • •
I see myself completely differently. My love for myself (and realization that I matter) has grown tremendously. I don't feel numb anymore. I don't hold back as much. I feel fully alive and vital and sexy. I feel powerful and magnetic. What I am most proud of is my openness to talk with my husband about things I was afraid to ask for before. My relationship is hotter, more fun, sexier, exciting. Coaching with Irene has been fun, and the most valuable coaching I've ever gotten.
Suzan, Relationship Coach
Next program: November 10, 2019
Get notified when enrollment opens.